Obituary - James William Thomas II,
Co-Founder of Forgotten Treasures Ministries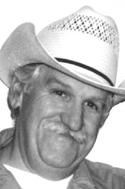 James William "Jim" Thomas II, 70, of Lakewood, Colo., formerly of Oil City, a passionate minister of the Gospel and talented guitarist, died Saturday, Nov. 5, 2005, at Hospice of Metro Denver, after a long illness.

Mr. Thomas was a retired painting contractor of 30 years and founder and director of "Forgotten Treasures" nursing home ministry.

Born June 3, 1935, in Oil City, he was one of six children born to James William and Hazel Mae Hollister Thomas of Tippery.

He attended Salina School in Cranberry.

On Aug. 13, 1958, Mr. Thomas married Marilyn Sue Smock of Conneautville. She survives.

Shortly thereafter he served in the Army during the late 1950s and was based in Honolulu, Hawaii. He was the leader and finest marksman of the military's Pacific Theater champion pistol team.

Following the service, he returned to Franklin where he worked at the CPT.

Mr. Thomas and his brother, Tom, moved their families to Los Angeles, Calif., in 1963. Nine years later he moved his family to Denver, Colo. Being an avid and accomplished hunter and fisherman, he fell in love with the Rocky Mountains and decided to stay.

He established his successful paint contracting business at the start of the 1970 construction boom in Denver.

In 1984, Mr. Thomas and his wife, Marilyn, started the nursing home visitation ministry that would come to be known as "Forgotten Treasures." This ministry performs church services and visitation with dozens of volunteers for more than 450 elderly residents every week in Colorado. As a result of their service, they were platform guests of Billy Graham for his 1987 Denver Crusade at Mile High Stadium. They also performed and recorded Gospel music with Mr. Thomas playing Chet Atkins' style guitar and his wife singing, using the music to promote "Forgotten Treasures" with the ministry continuing to grow to this day.

Surviving are his wife of 47 years; six sons, Grant Wayne Bacon and wife, Christie, of Arvada, Colo., James William Thomas III of Lakewood, Colo., Scott Bryan Thomas of Lakewood, Colo., Craig Alan Thomas of Las Vegas, Nev., Theodore Blaine Thomas and wife, Rita, of Nashville, Tenn., and Stephen Kirk Thomas and wife, Kathy, of Littleton, Colo.; nine grandchildren, Luke Thomas, Daniel Thomas, Samuel Thomas and Benjamin Thomas of Nashville, Tenn., Hannah Thomas and Joel Thomas of Littleton, Colo., Isabella Bacon of Arvada, Colo., Shauna Stenzel of Lakewood, Colo., and Shani Stenzel of Wylie, Texas; and one great-grandchild, Bianca Elise Stenzel of Wylie, Texas.

He also is survived by his sister Monabel Thomas Greggs of Gold Canyon, Ariz., and by his brother, Thomas Morris Thomas of Olathe, Colo.

Mr. Thomas was preceded in death by his sister Joan "Jo-Anne" Thomas Perry; his brother, Carl Thomas; and his sister, Loretta "Honey" Thomas Hanna.

A memorial was celebrated in Orchard Road Christian Center, Greenwood Village, Denver, Colo. The Rev. Hugh Fells officiated.

A ceremony honoring his military service was held at at Fort Logan National Cemetery, Denver, Colo.

Arrangements were handled by "All Veterans Burial Services" of Wheat Ridge, Colo.

The family requests that memorials be made to the "Forgotten Treasures Inc." ministry, 335 Depew St., Lakewood, Colo., 80226.

For more information about Mr. Thomas, his music and the Forgotten Treasures Ministry please go to the ministry Web site: www.ftco.org.