---
FORGOTTEN TREASURES HISTORY & SCOPE

Started in 1984 by J. W. & Marilyn Thomas , this outreach provides opportunities for lay people to serve the elderly in care centers. A short orientation, training, hands on ministry in nursing homes brings joy and hope to lonely residents.

Church services and one on one ministry is most needed. Music, children, and pets visits are wonderful blessings to bring encouragement to believers and salvation to non-believers in their autumn years facing eternity.

J.W. and Marilyn Thomas
VOLUNTEERS NEEDED:


- Arkansas Manor
- Autumn Heights
- Aspen Village


F.T. STATISTICS 2004:



- 21,422 residents ministered to

- 400 to 450 per-week reached with the
word and touched with the love of Jesus

- 18 churches involved involved

- 83 volunteers bringing hope and joy to residents in

- 31 nursing homes in Denver


FINANCIAL SUPPORT &


faithful laborers are a vital part of this outreach to the least of these in our community. Please contact:


Marilyn 303-234-1367
Bernadette 303-729-1473
Deanne 303-707-0232

Come and give the gift of friendship and love
---

THE COMEBACK KID

Our longtime volunteer and friend Roland recently found Denver traffic too much one day resulting in bumps, bruises and a terminally crushed fender. He was hospitalized but never complained, sent to Western Hills Nursing home for re-hab for several weeks (but never stopped smiling) spent a month or two wrestling with well meaning people who were not sure he should continue his ministry to the elderly.

As of this date he is not only continuing his faithful ministry in several homes but has a brand new van to travel in, the gift from a friend of many years. Roland NEVER GAVE UP on the vision to minister church services and bible studies and is back in full swing. Inspiration? YES! Courage under pressure to stop driving? ALWAYS! Strong in faith? THERE WAS NEVER A DOUBT! God Bless Roland with many more years reaching out to people in nursing homes who love to see him come every week.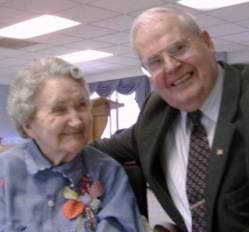 ROLAND & RESIDENT ELLEN
---

BIBLE COLLEGE STUDENT / BUSINESS WOMEN



From the capitol city in Ethiopia, Etalem has blessed F.T. and nursing home residents at Heritage Club home ministering with Al and Deanne. She owns and operates a bake shop with the help of her family 3 brothers and 3 sisters and also a 14 year old adopted daughter. Her vision is to help women reach their potential as God intended in her home country after she graduates from W.W. Bible College in June.


ETALEM & SADIE & ROSE


AL & RESIDENT

SADIE & DEANNE
---
FT Home Page
501(c)(3) "Not For Profit" Tax Exempt Organization


Copyright 2008 Forgotten Treasures, Inc.